Muna, the bride, was introduced to me by an old friend ( her brother-in-law ), and the first conversation we had, was pretty much, only about cats. We discussed how many cats I have, how many she has, the ones that crossed the rainbow bridge, how we are individually coping with the loss, how we both try to help and rescue other cats being part of the same cat-lover community, both on social media and personally. Yes, the first conversation revolved only around cats and we bonded really fast ! 🙂 Over the next few days, we decided on the location in Kolkata for their romantic couple shoot.
Can you picture bonding over cats, as a Service Provider and a Client? That's exactly how it happened!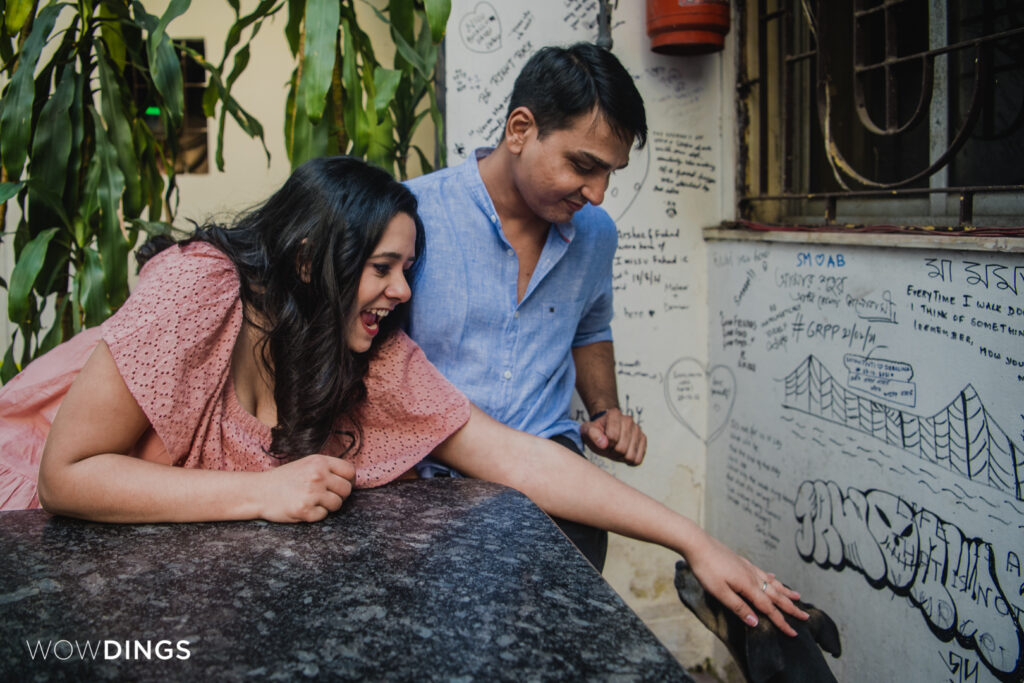 When we met at Starbucks, my first impression was, Muna is a really sweet person, very creative, honest, has a heart of gold, and the face of a baby. ( I continue to see her as this adorable baby). That evening she shared how she had totally given up on love ( and so did her beau, Gaurav) after a painful heartbreak and her family thought she is never seeing anyone again, and then they luckily found each other on a dating site.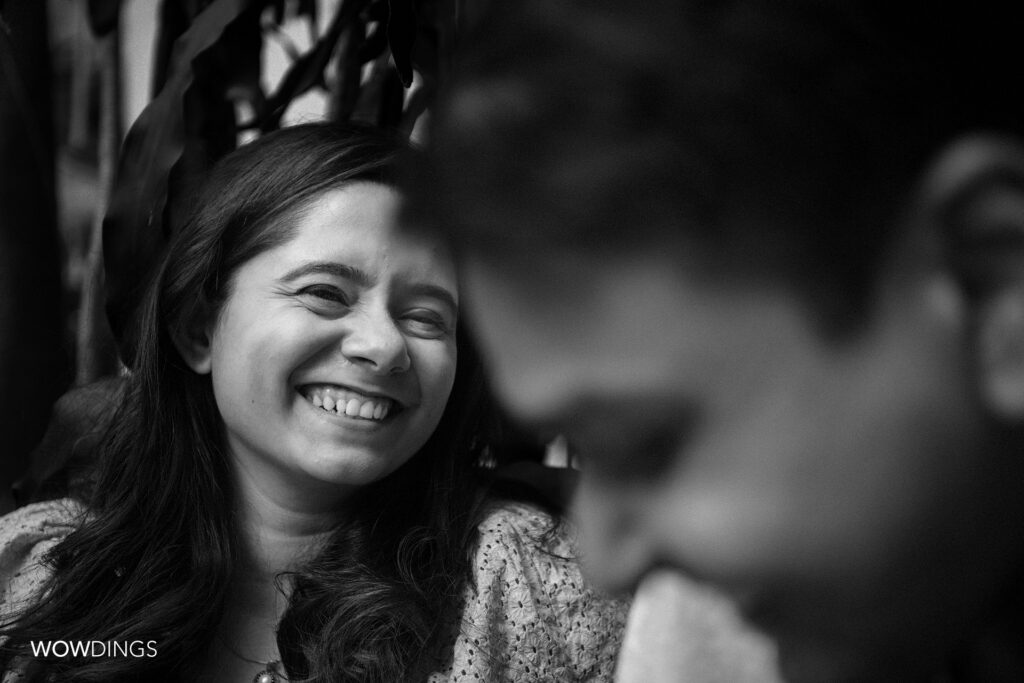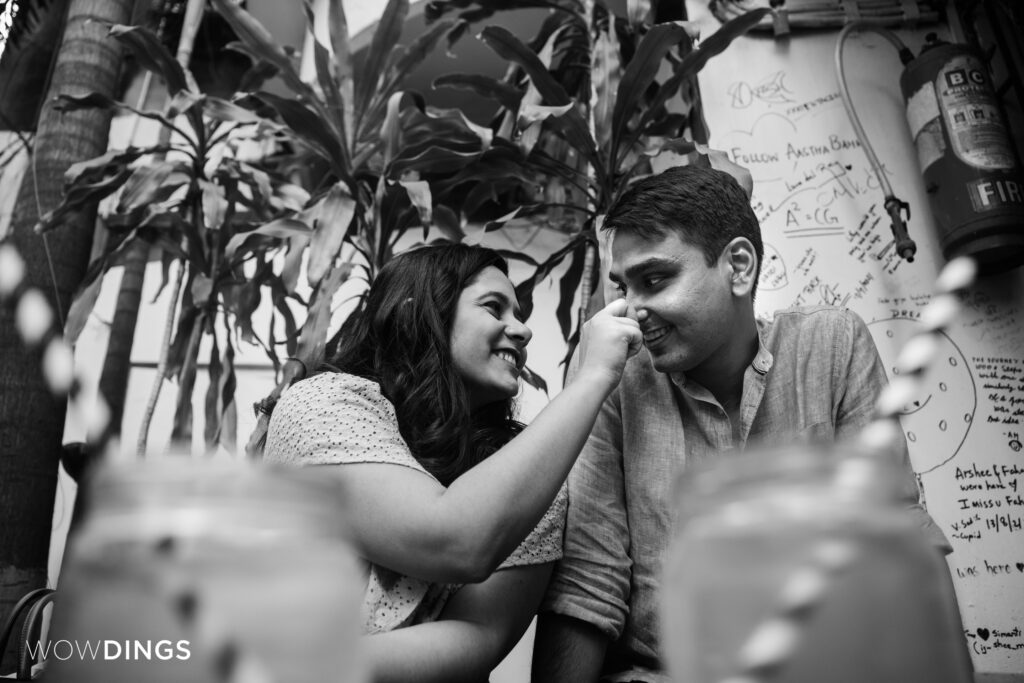 Right after they met online, pandemics happened and the lockdown followed. So their entire love story germinated, during the lockdown phase. After the first few months of emotional struggle, and shuttling between their respective cities to meet each other, once they were sure, they wanted to be with each other for the rest of their lives, Gaurav in to Kolkata and rented a place just to be close to the love of his life.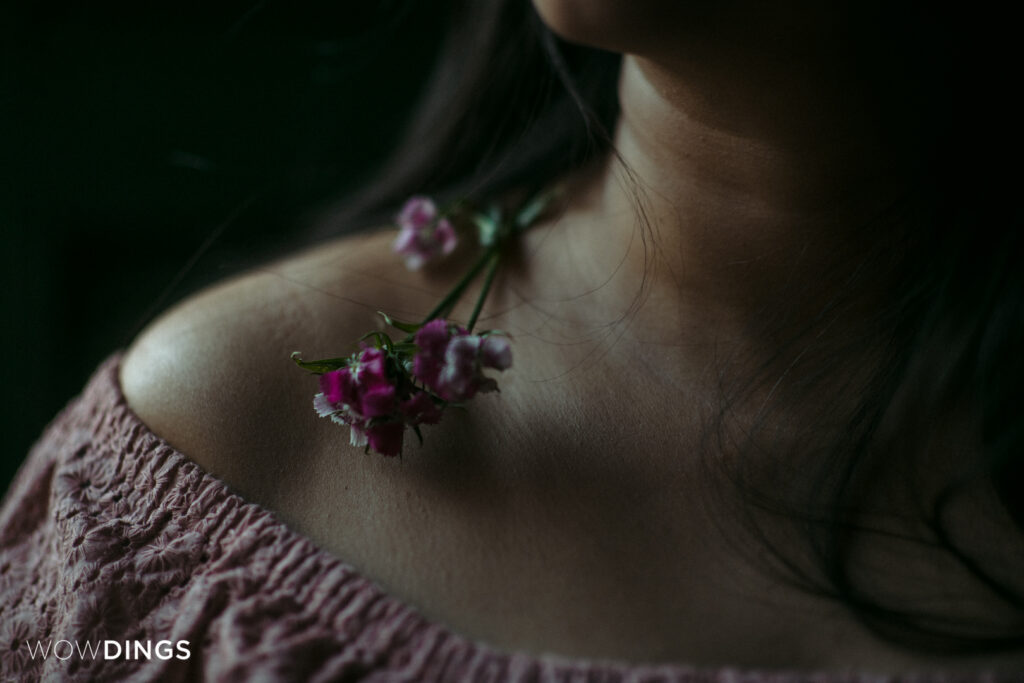 Muna emphasized how she wanted to see their relationship in photos. She wanted them to be raw and honest and exactly the way their relationship was, and they are as individuals, around each other. Even if it meant, doing mundane things mostly, as any commoner lives her love-life in a city, at times inside the apartment/house, at times taking public rides, or having tea or coffee with the beloved, at other times walking the streets, the lanes and by-lanes, incessantly sharing with each other, their life, their thoughts, their dreams and everything in between.
I was pretty excited the day I was to meet Gaurav. Muna picked him up from the airport and post lunch we met at Raj Spanish Cafe. Muna and Gaurav were real-time foodies. During their courtship phase, they had explored most of the great food outlets in Kolkata. A strange satisfaction lies in having good food. Not just in eating but also in watching people who truly enjoy a fabulous gastronomic experience. That evening we had an amazing time and I also got to capture a few photos of the lovebirds together. What I really loved about their chemistry was, how natural and organic it was. Nothing was forced, nothing was made-up and not waiting to be instructed. It was a relief for me, as I knew, it was going to be a cakewalk when couples have such naturally beautiful and uninhibited chemistry. Oftentimes such people do not request stilted posed-for photos. Gaurav was a shy, honest, and accommodating man. His eyes lit up every time he mentioned Muna. Never for once, did he leave her hand while telling me their story.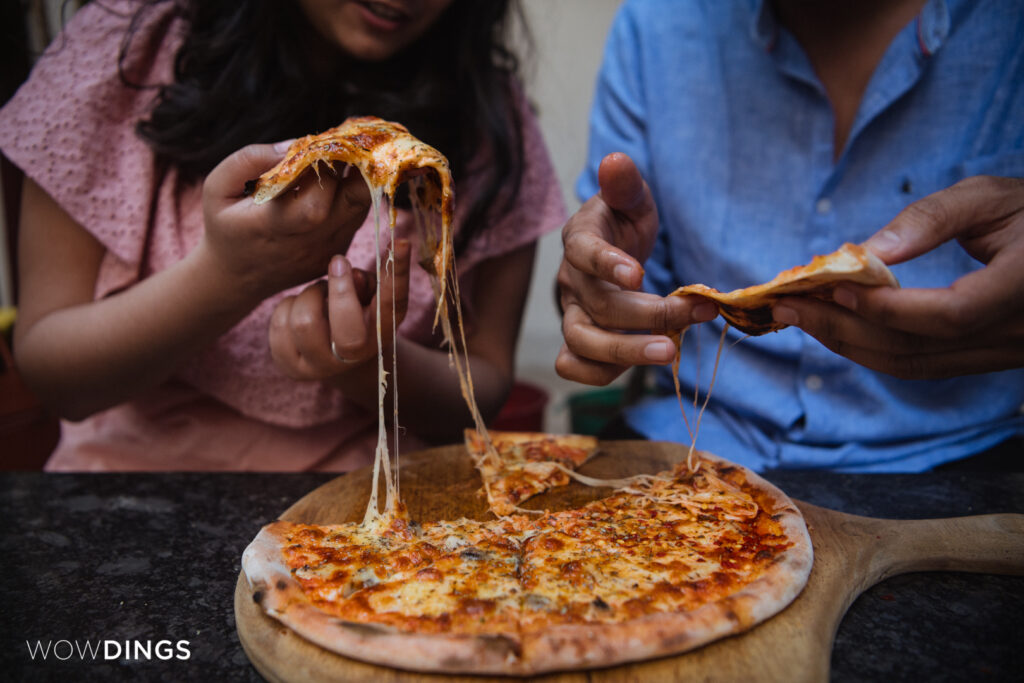 As someone who was born and raised in old Kolkata herself, Muna for me was close to hitting "home". The graceful and intellectual modern Bengali woman in a saree ( and equally beautiful in a dress), who can talk about Arts and Cats with the same elan, loves to frequent the heritage locations of Kolkata, like Kolkata coffee house, College Street, North Kolkata lanes, loves black and white photos, loves tram rides and yellow taxi, and also has this absolutely sweet feminine aspect to her, wherein, she finds joy in the little things of life, of receiving flowers, or a hand-written note, maybe a pair of earrings that her man had picked up from a flea market, or to receive an Amazon package of a certain shade of lipstick she has gifted herself on receiving the month's salary. She is every girl you or I know. She is every one of us. The more I explored her, the more I was filled with a certain happiness and I really started to look forward to their shoot.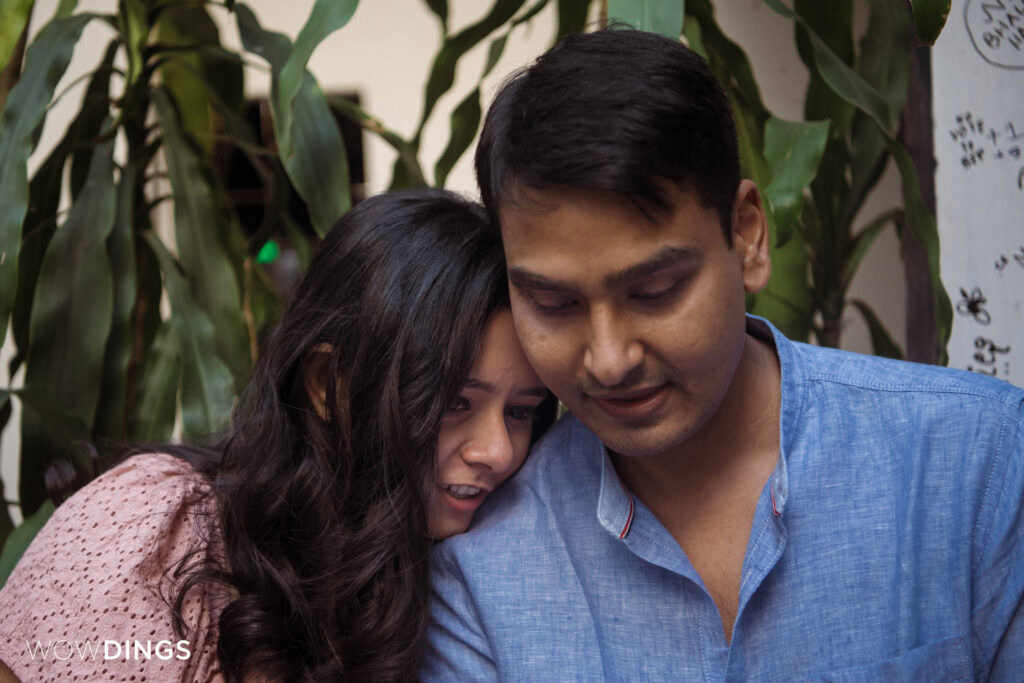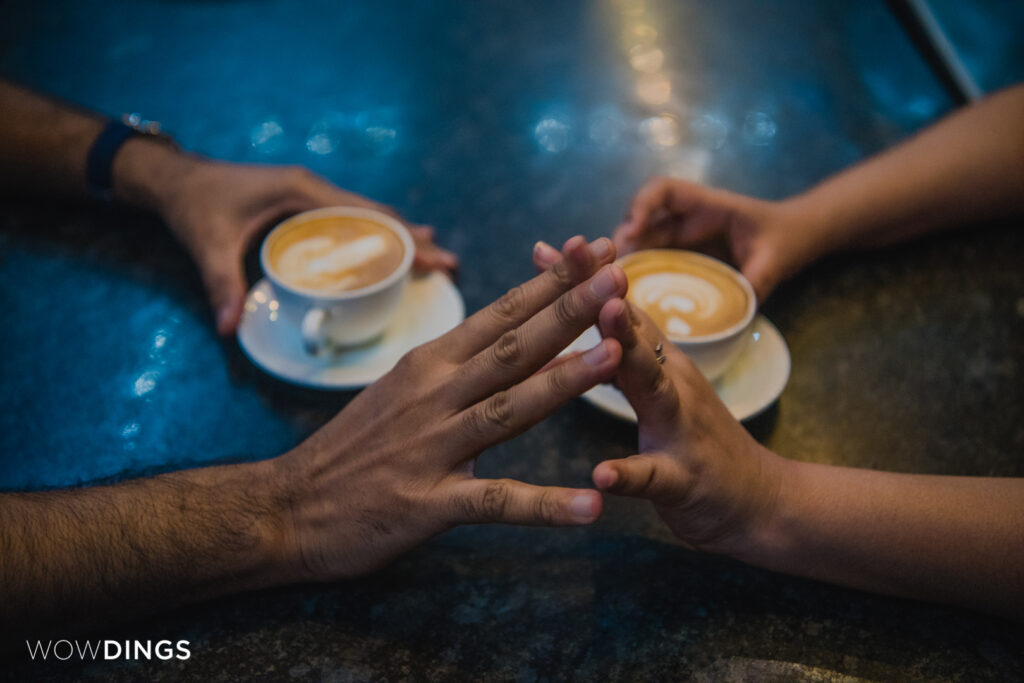 My city Kolkata wears its past on its sleeve like few other cities, from its rotund yellow taxis to its antiquated trams. We met close to my place at a tram depot. It was a Sunday and I half-hoped that the model tram themed on Rabindranath Tagore's Balaka would be there. But the elegant lady was getting serviced, we were told. So we took another one.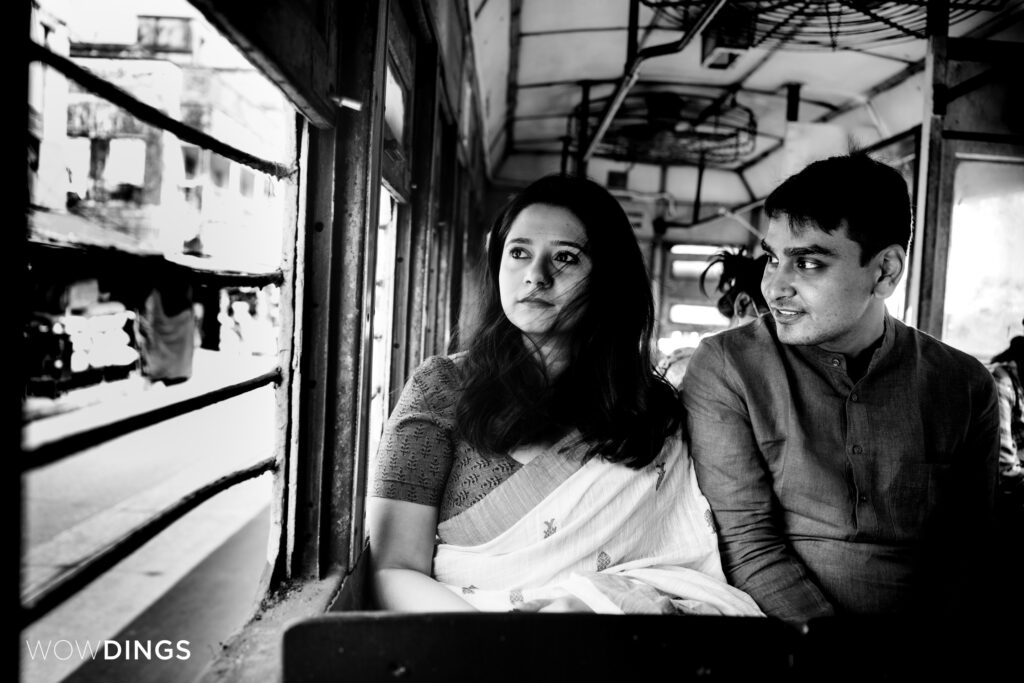 A dated Bengali advertisement extols the virtues of Prince Bakery's vitamin-enriched sliced bread. A copy of a photograph by Clyde Waddell, who captured the Calcutta of 1945 in a series of dramatic images, shows commuters in dhoti-kurta hanging from tram windows. Waddell said, "Indians are the bravest commuters in the world. They hang from every handhold." If you have watched the film " Mahanagar" by the internationally acclaimed filmmaker Satyajit Ray, you might already know the first sequence, where the director introduces the first sequence of the movie with the visual of a running tram, to establish 1950s Calcutta. Later on, he used trams to show the life of a commoner in Calcutta in movies like Apur Sansar. The nostalgic tram rides are often a part of the heritage photo walks that we offer. As a child, I do remember my favorite part of traveling from North Kolkata to the Central part, with my father. It was the Tram ride. For me, as a child, the dainty ride of a rusty tramcar, with its very vintage charm and the lure of that single seat with a huge window, that makes it feel like a mini-train almost, was extremely hard to pass up. A trip to Kolkata is not complete without a tram ride across the city. The famous two lines by Majrooh Sultanpuri written for 1956 Bombay,
"कहीं बिल्डिंग, कहीं ट्रामे, कहीं मोटर, कहीं मिल
मिलता है यहाँ सब कुछ, इक मिलता नहीं दिल"
does not stand true for Mumbai anymore. Mumbai had closed all of its tram services in 1964. But you can still find all of it, in my very own hometown Kolkata.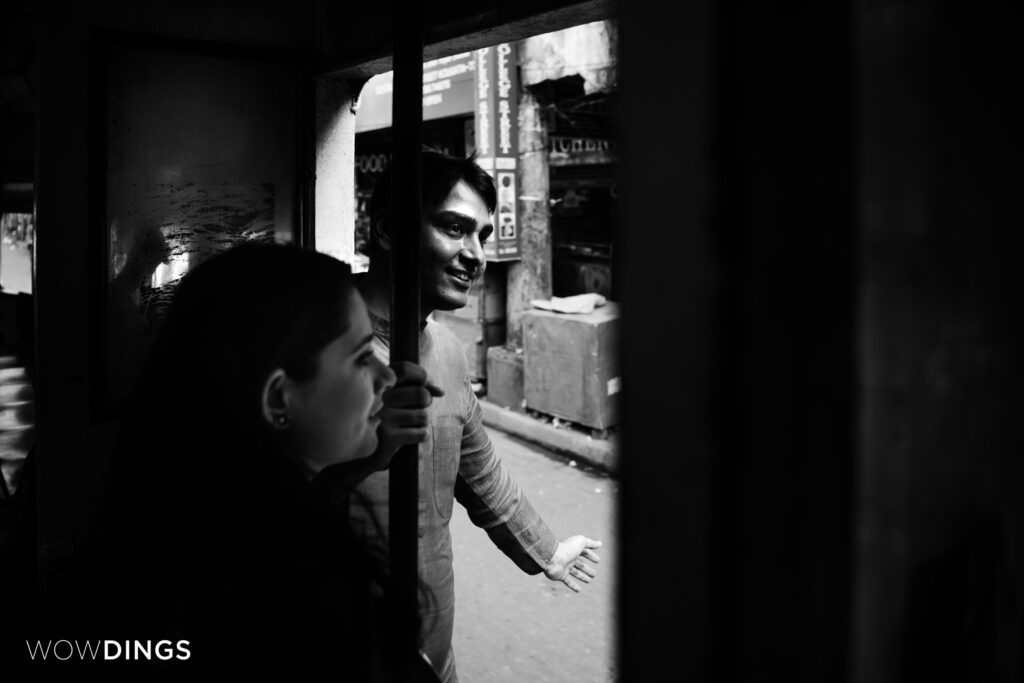 Gaurav hails from Neemuch, a small town along the borders of Madhya Pradesh and Rajasthan. Muna wanted to show him her roots, her heritage, and everything that made her who she is. Muna and I had mutually decided, that Gaurav must get a stint of this iconic joyride, so we took a tram. Gaurav seemed to be as happy as a child, and I snuck in a few shots of their happy moments.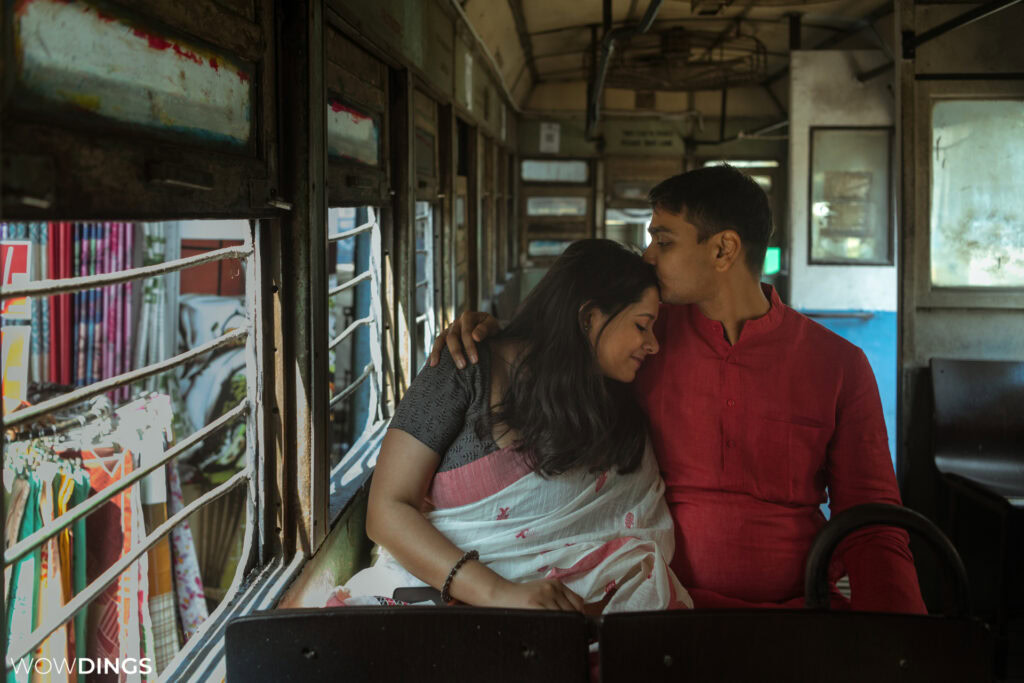 Our shooting destination was Kolkata Coffee House on College Street. College Street area is the bustling neighborhood that is home to some of Asia's oldest universities. The alleys are jammed with small bookstores, the city's enormous appetite for knowledge production spilling onto the pavement. The history of the Coffee House at College Street can be traced to Albert Hall, which was founded in April 1876. Later, the Coffee Board decided to start a coffee joint from Albert Hall in 1942. This is where I had attended my pre-university college as well, and frequenting Coffee House formed many an afternoon's addictive daily routine. At the risk of inviting a gaze of withering contempt from the turbaned waiter, as if blasphemy has been committed: I sheepishly sneaked out my camera. At the heart of this iconic cafe in college para, is not coffee. It's "adda". When I was a regular during my college days, my friends and I would talk about everything and nothing for hours; which is essentially called an "adda".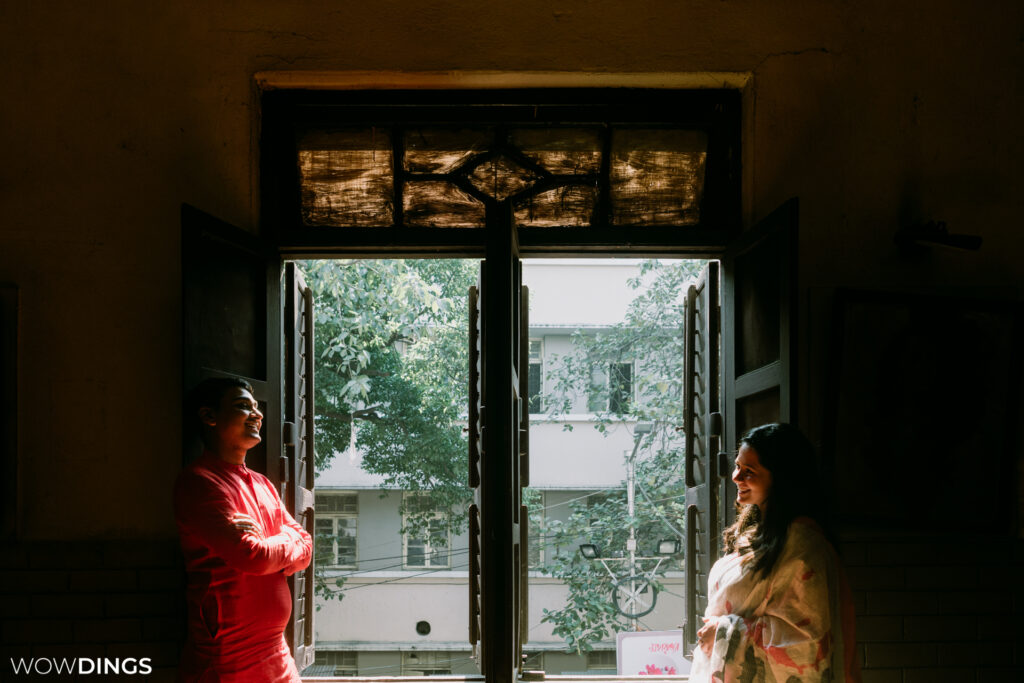 Adda is integral to the identity of being a Bengali, immortalized by Manna Dey in his famous Bengali song, "Coffee House er sei adda ta aj ar nei" (The adda at Coffee House is no more).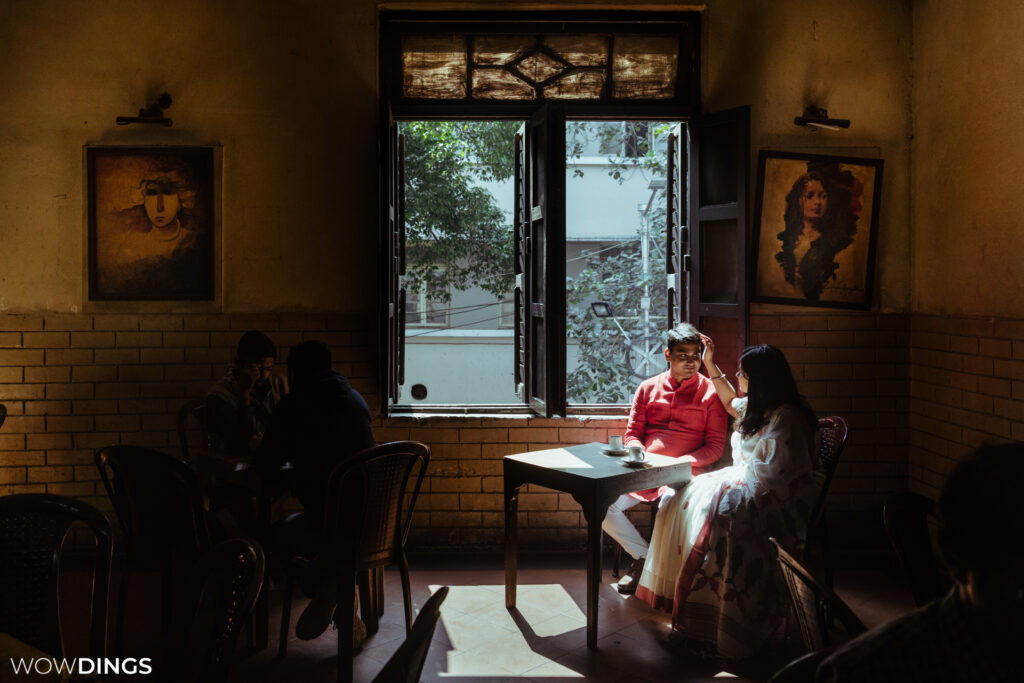 Some of Bengal's favorite icons would hold adda at the Coffee House, from Rabindranath Tagore, Amartya Sen (Nobel Laureate in economic sciences), to the legendary filmmaker Satyajit Ray to Mrinal sen, Ritwik Ghatak, Aparna Sen, Utpal Dutt, Soumitra Chatterjee, authors like Sunil Gangopadhyay, Narayan Gangopadhyay, Sanjeev Chattopadhyay, Samaresh Majumdar, Subhas Mukhopadhyay, Shakti Chattopadhyay, Firaq Gorakhpuri and the likes.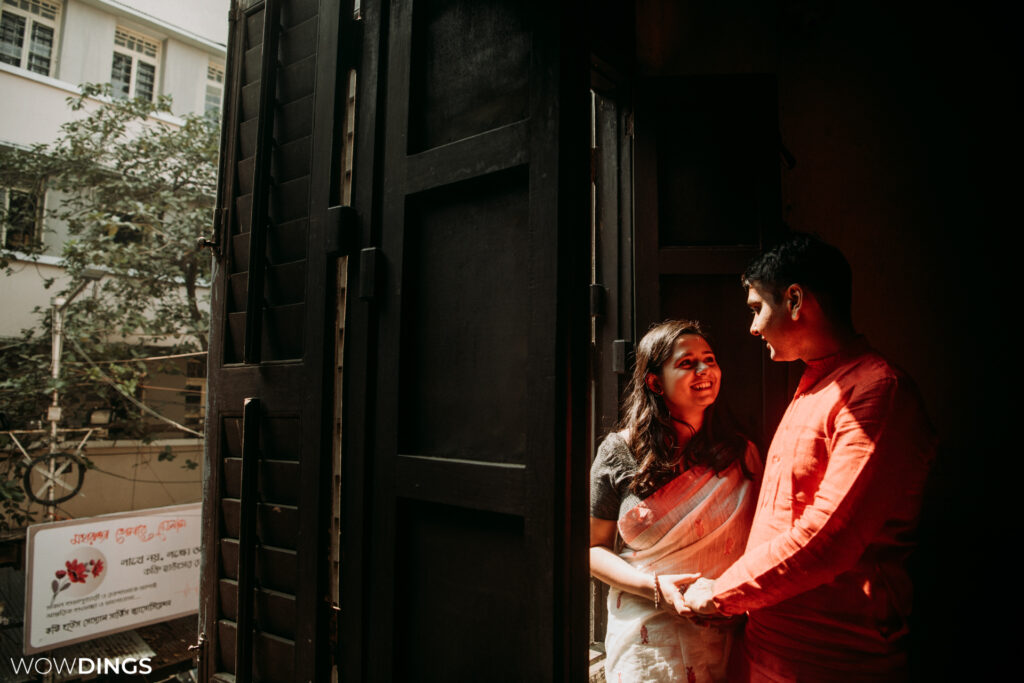 Bengalis are a race, of humble beginnings and small means as a rule and it is said that Sunil Gangopadhyay often didn't have money to pay for coffee, and would leave behind his black umbrella as a collateral. Cutting through the flaky patty that served as a reminder of the legacy left behind by the British, I asked Muna, of all the little tokens of love that Gaurav has given you so far, which one is your favorite? She took off her ear studs shaped like flowers, and placed them on the rims of her coffee saucer, bathed by the soft late-afternoon sun.

Having a photographer native from a city has its own set of issues. She tends to get excited about every big or little thing. She wishes you feel the soul of the place as much as she feels it. Coffee House reeked of romantic nostalgia from my college life. I remembered how we would run out of our allowances and used to tip the waitstaff in coins. I smiled to myself subconsciously.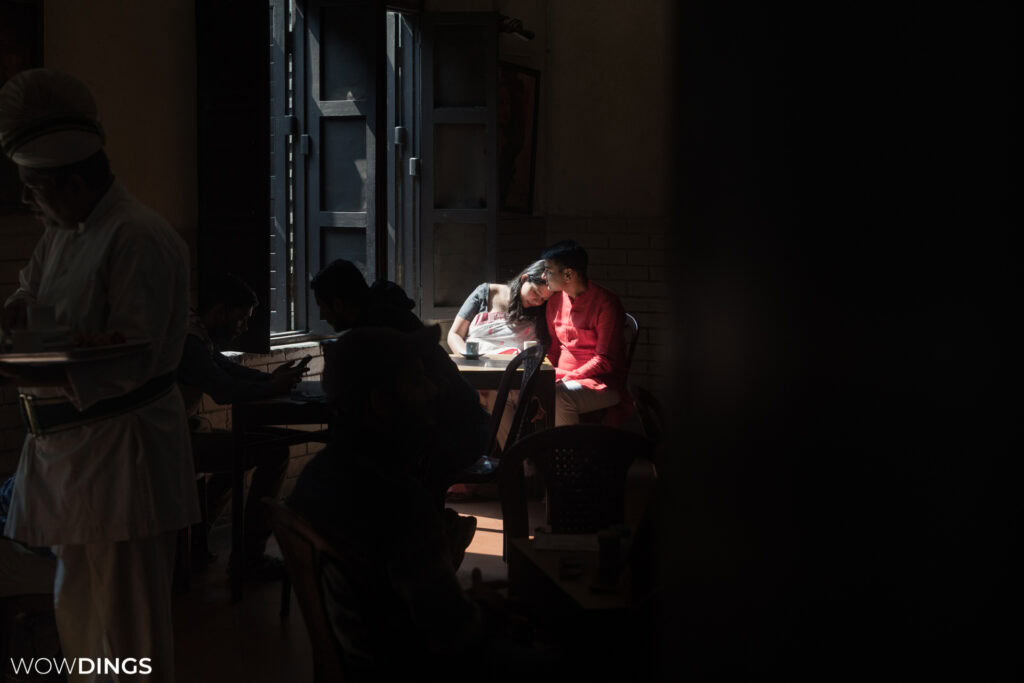 A lot of love stories brewed over the coffee offered by this coffee house, and dreams were shaped by the fumes of cigarettes in this no-smoking zone. In a place so big, always set abuzz with laughter, conversation, arguments bouncing off the walls, and no one being mindful of other tables, it's easy to hide, or hold each other's hands. As I gazed away at a group of youngsters playing guitar, and the big hall buzzing with voices of people debating, ideating or just whispering love, Muna and Gaurav silently got lost in others' embrace.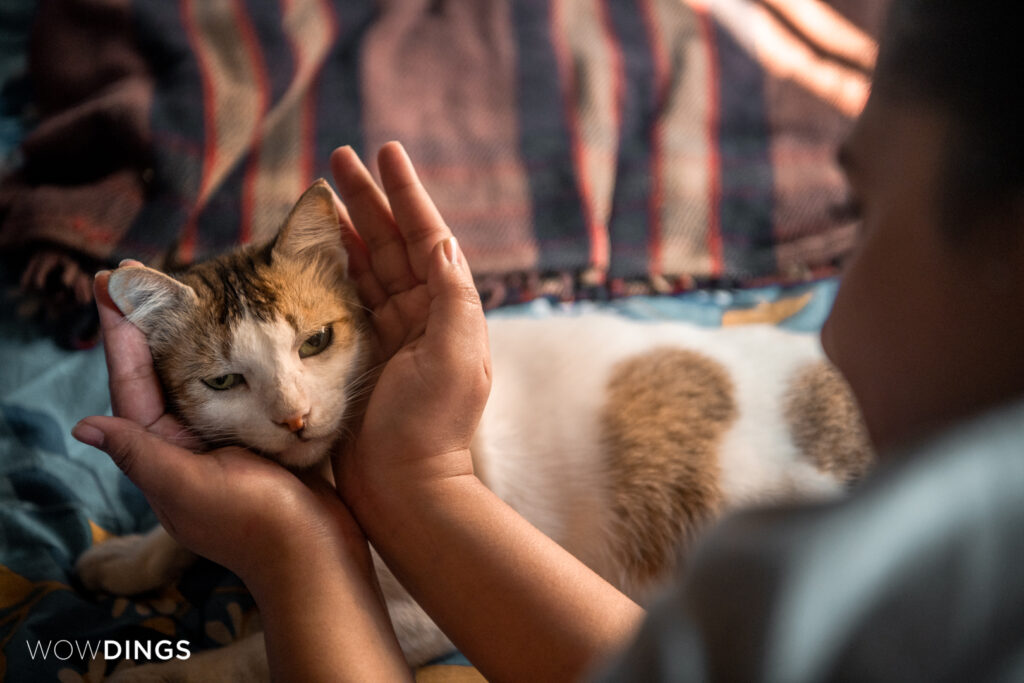 While walking back through the memory-laden streets of North Kolkata, Muna invited me for a lunch at her place and said Chhutku is looking forward to meeting me. Those who have known me would know, that I might resist an invitation to a luncheon but not one that involves a Cat. So the last stop of our day was Muna's home.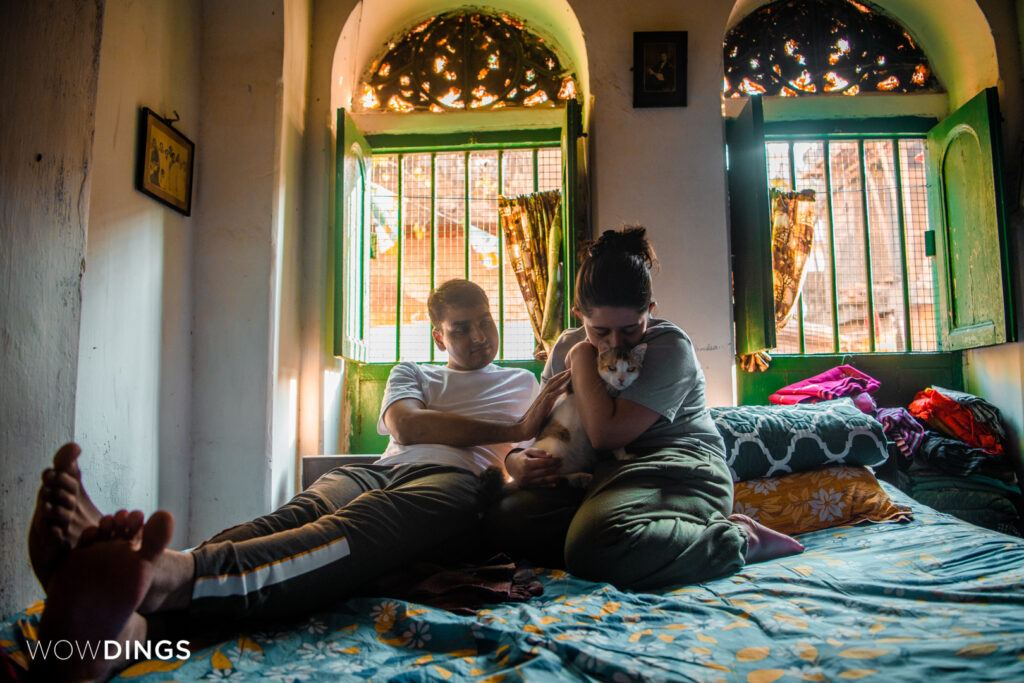 Muna's home was very similar to my own, as both of us live in our heritage ancestral homes which are almost 150 years or older. There was a raised terrace in the front of their house ( which we call a rowak in Bengali ) which is a characteristic of an old Kolkata home. I took a few pictures of them on the rowak, and Gaurav though from a different culture seemed so much a part of the environment. We went inside crossing the main gate and the courtyard, and Chhutku came running to welcome us.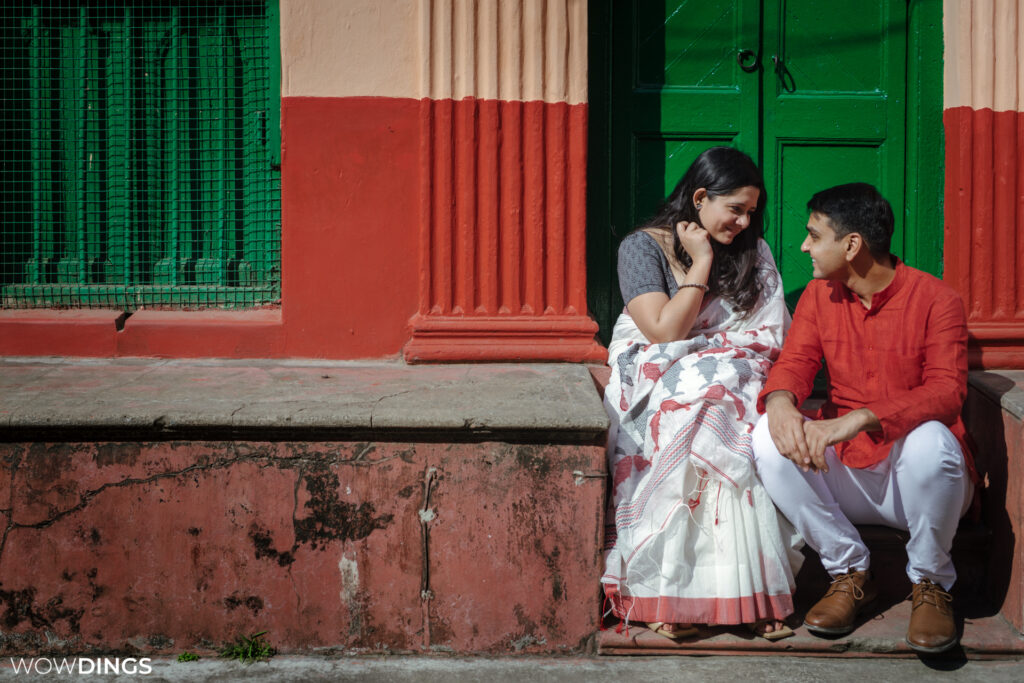 The small room with a high ceiling, thick walls, half-curtained windows, niches ( Bengali: kulungi), vintage lampshades, and old family photos from the latter half of the 19th century hung on the walls. Things were not too purposely organized, and the winter rugs were casually thrown where they needed to be. All of it felt more cozy in the warm dying golden winter sun, and much more real, than perhaps a very state-of-the-art modern studio apartment would ever appeal to me. Muna and I had lunch, with Chhutku coiled up on her lap throughout.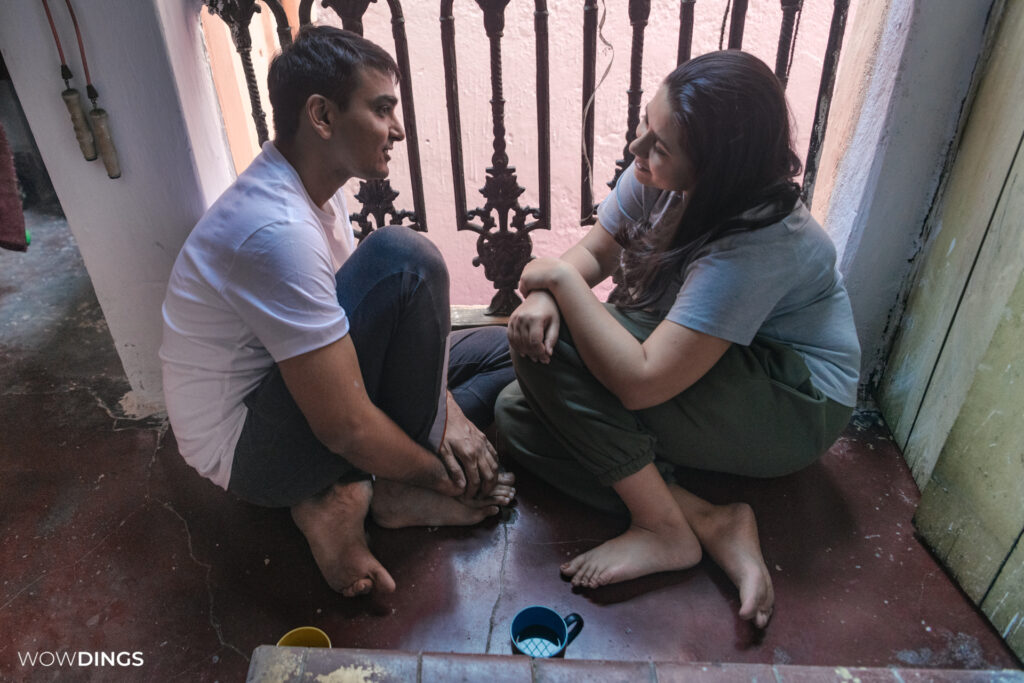 Post lunch, Gaurav made us some coffee and we went upstairs to the attic room ( Bengali: chilekotha) , where Muna stays.
She couldn't contain her excitement about the surprise she had in store for Gaurav. She had ordered a Star Map a few weeks ago. A hand-held Sky chart that gives the exact location of her stars and that of Gaurav's when they met. Do u see, how Gaurav and I were meant to be? – her eyes beamed. Gaurav gave her the tightest of hugs.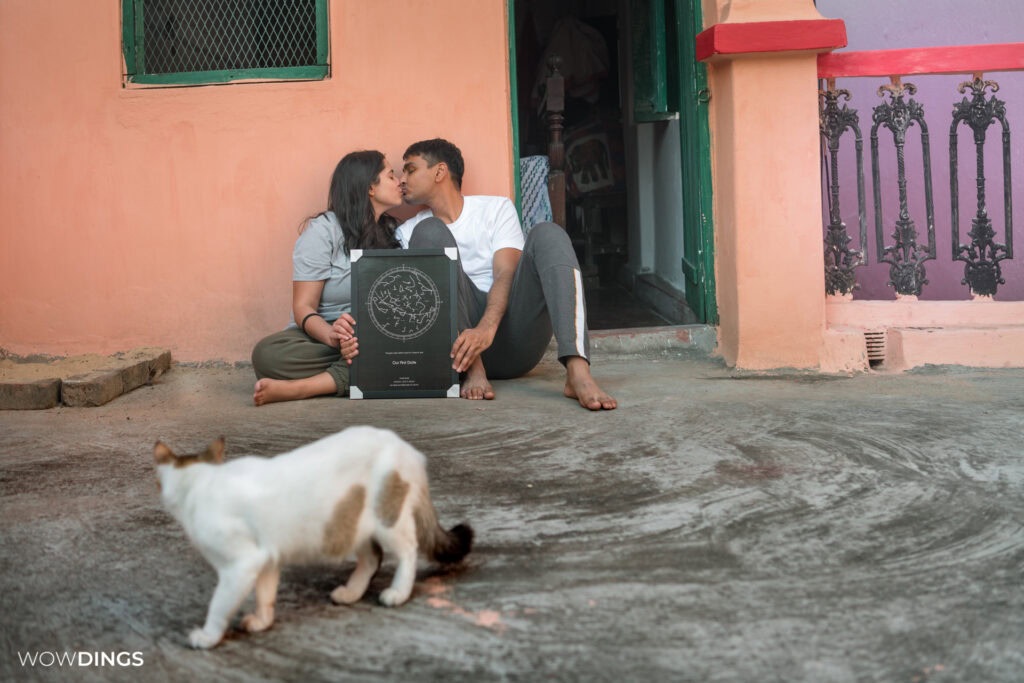 I had asked Muna, " From giving up on love completely, to finding Gaurav, the journey hasn't been easy. If you are to give me two words to define it all, which words will u give me?"
" I have actually four, but I will give you two"-she replied. And thus came the idea of the next photo. A photo is so close to my heart. And theirs too. A photo that talks about a triumphant love which believed, it had hoped..when there was none, and which rode on immense faith…holding on against everything.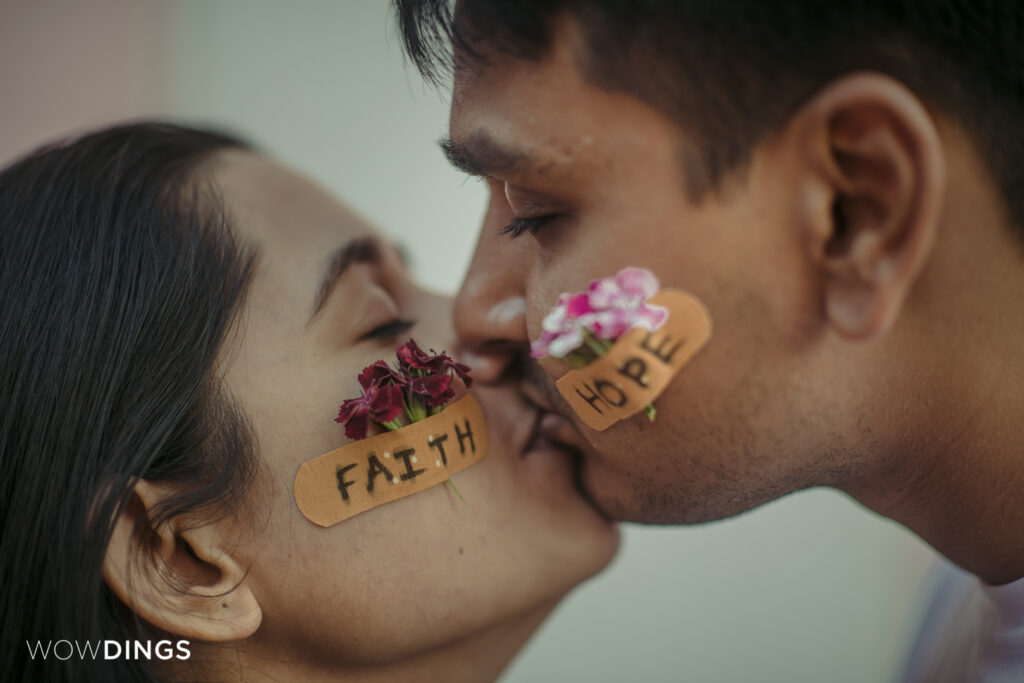 Chhutku wanted to be a part of everything. And I never mind clicking a happy participant. Mostly when it's a cat. 🙂
"Gaurav was a little scared of Chhutku initially, but she chose him as her human. He is the chosen one u see, he has been adopted!" -Muna broke out into a loud after. Then she asked me softly, would u please take a picture of us three?
Of course, I was more than happy to oblige. She had a look at my camera, and said, now my family is complete. See? This is the most complete, full of contentment, and reassuring photograph I can ever have in my life I think. This one goes surely makes the cut as a big canvas print on the wall.
I was too overwhelmed to say anything else.
"Watch us just being ourselves, without caring about the world..", and she started dancing away with her man. It was already dark, and there were dim street lights with a half-risen moon, and the last photo that I had to take was this really awesome couple dancing in the backdrop of a color riot, in our heritage city Kolkata. At that moment they seemed to me like a piece of art, all of it too unreal.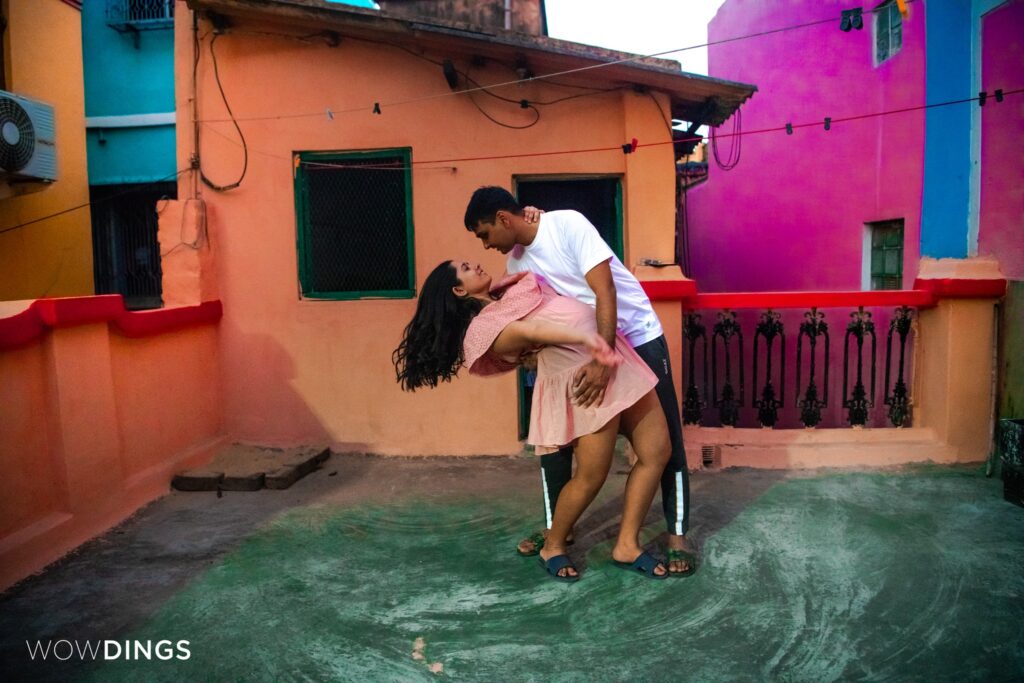 The heart of what we do is the people that we work with. So we are intent on treating each of our clients like loved ones and good friends, truly and intentionally listening and caring about what they care about because their story matters and they deserve to be celebrated. And thus, we approach our couples the way I wish someone would approach my wedding/shoot if I hired a team. This also means that at times we go above and beyond our capacity, all out, and do more than what is expected, to ensure that the work is completely and responsibly done to tell the story of the day, even if that means we don't put a time cap on shooting( as in we do not clock out just because u booked us for a specified number of hours,). I hope you enjoy our vibe as people and as creatives and know if you really want your story to be told your way, the way that u can relate yourself with it, our team, and you can be the best fit. We certainly look forward to creating amazingly beautiful memories with you.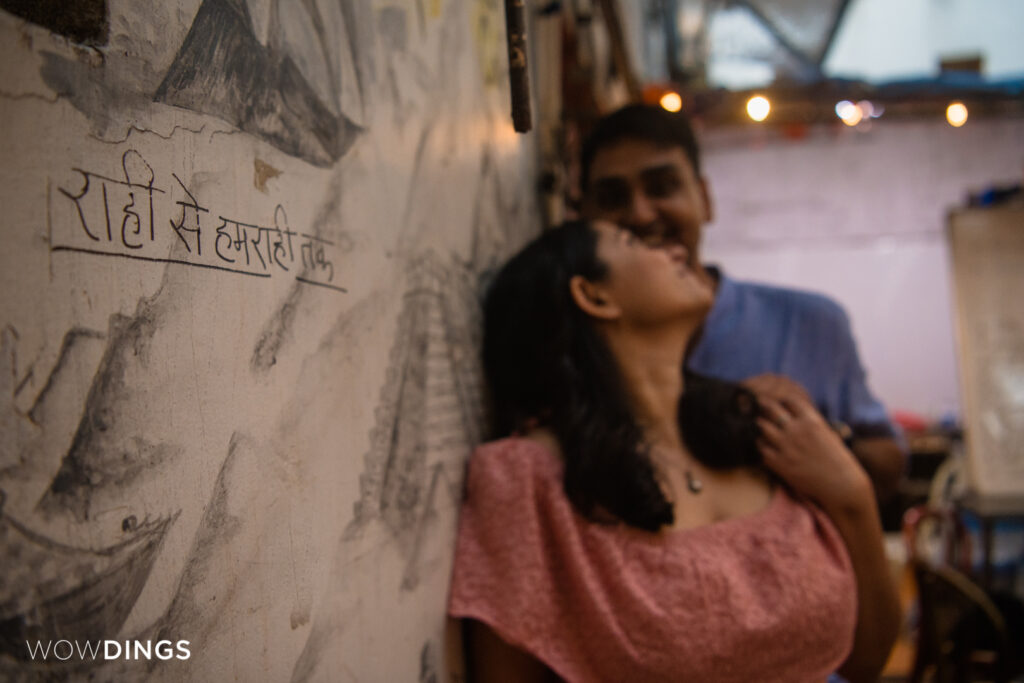 You can hire us to create your memories with joyful art, with your loved one. Contact us here.